Q&A with Owen for Digital Gen Con
Heya Folks!
I have an ear infection, which took me out Thursday and most of Friday. But I also did some AMA things to try to replicate the hanging out experiences of Gen Con for its digital equivalent. A lot of the good questions and answers are buried deep in threads, so I wanted to pull them together for you with simplified versions of the questions as a double-helping of blog post content!
So, just pretend this was all said while hanging out at a bar after-hours of a convention. 🙂
Q: What general advice would you give someone just starting to get into ttRPG game design?
A: Keep creating.
Seek work-life-balance.
Try new things. Write a new poker game. Do a chess variant. Look for the neat parts of games you dislike.
Listen to and read advice from everyone. Especially people with different backgrounds and life experiences.
Diversity is gold.
Q: Other than writing and creative writing, what skills should I develop to be a better tabletop Roleplaying Game designer?
A: I recommend looking at some game-specific skills. For example, what makes something fun? (And, I absolutely suggest A Theory of Fun for Game Design by Raph Koster). Look at probability and averages and bell curves, with regards to dice. Especially if you use dice-based games.
Then, write some things for yourself. Doing it on a blog or appropriate form can help get some feedback, but the important thing is to write ALL of a few different kinds of game content.
For example, write an entire adventure.
That adventure can be just three encounters, but include the introduction, the instruction to the GM, descriptions of areas and NPC motivations, any monsters, treasure, wrap-up, and so on. For example for Pathfinder 2e: I'd say write a short adventure. Write a spell at each level, and make sure they are divided among the traditions. Write some feats. Write an archetype. Write items at different item levels. The best way to start is to *start*. You'll learn from there.
If you want to write for a game that has multiple publishers supporting it, reach out to all of them. Find emails. Know what lines of products they publish. Make some pitches. I have some blog articles where I talk about pitches.
https://owenkcstephens.com/2018/12/10/writing-basics-rpg-pitches-part-one/
https://owenkcstephens.com/2019/01/23/writing-basics-rpg-pitches-part-two/
Also, follow and read every professional game designer, editor, and publisher you can on social media. Interact with them, politely and positively. Learn from them, both in the knowledge they offer, and how they comport themselves (you can learn from bad examples too).
Don't just follow and interact with designers that fit one mold either. Learn from everyone. All games systems, all backgrounds, all life experiences. Diversity is golden. I
Q: I am often convinced my ttRPG project has no value. How do I push through and finish it?
A: Sometimes, you just have to push through. I often promise myself I'll send a thing out to be reviewed and, if the reviewers hate it, never publish it. Self-inflicted negativity is super common among gaming pros. I talk about it at bit in this blog article.
https://owenkcstephens.com/2018/08/13/imposter-syndrome-in-the-game-industry/
Q: How do your organize your projects?
A:  I generally start by working on an outline. Be it a huge book. tiny article, or even a whole game line, an outline of high points and sections is the best way for me to organize my thoughts and keep track of where I am.
I personally just organize my outlines in word, using various headers.
I talk a little about outlines in this blog article, which also links to my related article on headers/
https://owenkcstephens.com/2019/10/28/writing-basics-the-freelance-work-process/
Q: What are the most important elements of game lore and worldbuilding?
A: Creativity
Clarity
Relatability, balanced with originality.
Utility. If a GM or player can't use it somehow — to describe a region or culture, to inspire adventures, to explain important bakground — then why are you including it?
And a few interesting touchstones of details that are just enough to catch GM and player's interests.
Q: Is the twenty-sided die the best randomizer for ttRPG rules?
A: There is no ideal. Each randomizer had pros and cons. d20 is simple, easily understood, and has a nice range of results. But 2 is as likely as 20. For some things, bell curves are good. For some, die pools. For some, drawing cards. It depends on what the needs of your game are.
Q: How do I acknowledge the impact previous games have had on my game design?
A: Ignoring the question of specific licenses (such as the OGL) which can complete things– I like forewords, myself. "Many amazing games and designers helped guide me as I worked on Halfling & Haberdasheries. I was particularly inspired by the Kobold Caps "hat trick" mechanics."
Q: How much should I budget for art in an RPG? How much do artists charge?
A: Most concept artists have rate sheets, so you know in advance what you need to budget for them. Which runs from dozens to hundreds of dollars per piece. Also, talk to them about how they handle sketches and revisions.
Here's sample rates, for finished art from Jacob Blackmon.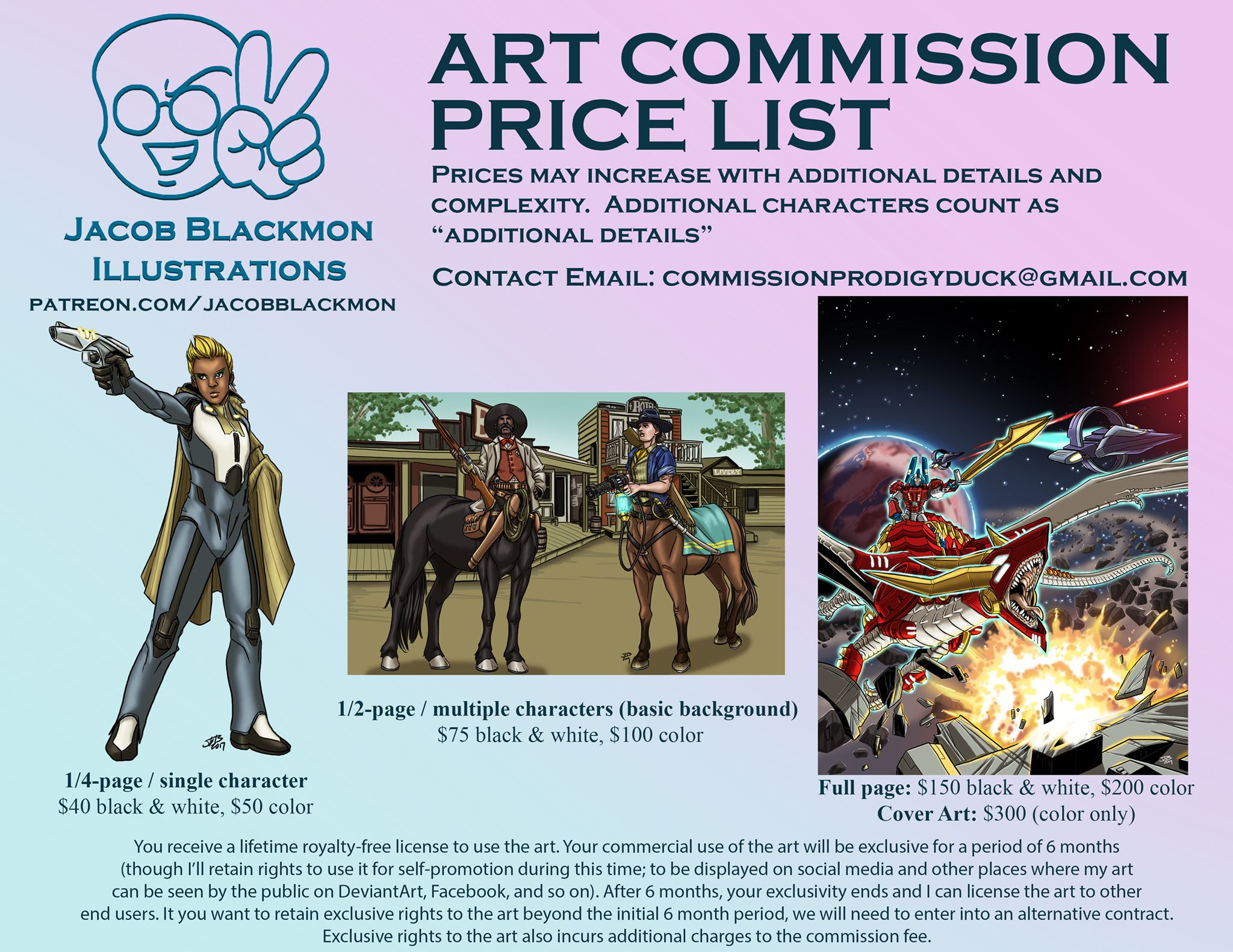 Q: I want to learn to play new RPGs. Other than dropping in on new groups at conventions, what else can I do?
A: When life gets back to normal, you can see if your Local Friendly Gaming Store has new game nights, or a board with people offering to teach games. 🙂
Q: I have a project I want to send to playtesters since I can't safely playtest in person but… what if the people I send it to steal it?
A: Get signed Non-Disclosure agreements from everyone before sending them the files. And send them to folks you trust. That's what big companies do. And if you can, get at least one session done digitally so you can watch, it can be super-insightful!
Q: What are good and bad ways for fans to approach you at a convention or event>
A: My favorite way is politely and directly. "Hi, I'm a Big Fan. Would you sign my book for me?"
If I seem to be at liberty, invite me to a meal (Monica is not wrong — I got some quality time with Aaron Allston by offering to buy him lunch), or a drink.
If I am in a group, just stand in it, and if the conversation goes that way, offer to say hi.
My least favorite is barging and demanding. I have had people interrupt whoever I am talking to, or interrupt me, to introduce themselves and gush out a question in the middle of someone else's answer.
Also, don't ask me for a lot of time to do you a favor when we first meet. "Hi, will you go over this adventure I printed and have with me and tell me what I need to do to it so you'll publish it?" is a bad introduction.
Nothing wrong with letting me know you'd like to know if I do such things, but work up to it in stages, and don't expect it to happen right here and now.
Also if I am on a panel, or heading to another panel, or manning a booth and trying to sell things, don't plant yourself in front of me and monopolize my tine.
Also, introduce yourself, even if we've spoken before. I can be bad at connecting name and face. Let me know the context of why you want to talk to me."I love your work on Star Wars Saga Edition" tell me you know who I am. "You're a designer, right? You hire people?" makes me wonder if you are just an opportunist.
Being an opportunist can be fine, to be clear, but even then I recommend using something I just said as a jumping -off point to talk to me, rather than try to jerk the conversation to your topic.
Don't hug without asking if it's okay (I am generally fine with it, but I am also a big believer in enthusiastic, ongoing consent).
Also, I personally recommend attaching your name badge with two lanyards, one in each corner, so it is less likely to flip around backwards.
Patreon
If you found this useful or entertaining, and you'd like to support the creation of more such content, check out my Patreon!