Building New Things That Feel Iconic
I love making new fantastic things. Not just "fantasy" things, but amazing and otherworldly things you could find in supers stories, or ancient mythology, or scifi, or weird west tall tales, or all of the above.
I especially love to make new things that feel like they have a long, established, iconic niche even if they are brand new. Obviously that's a great *goal*, but it's extremely difficult to do without making something that's just a pastiche. It's also extremely difficult to know when you have succeeded.
I do have some tricks I try to apply. Firstly, I often find if I can't explain a thing within the number of characters allowed by a Tweet, I don't have a firm enough grasp of what the core of that thing is. Second, I try to think about what the base of a thing is, and what the expansion is.
For example, today I had an idea leap into my head (likely due to insomnia-induced fatigue toxions) which I described thusly:
Ghortal are 7-8 foot tall unguligrade bipeds with roughly bull-like heads featuring tusks and 2-7 curling horns. Immune to undeath, if infected their faces take on skeletal features as their aging slows and they gain occult power.
They have a strong clan structure.
The base of ghortal is clearly that they are a kind of minotaur-kin, though with tusks and more horns. But then the idea is expanded to give them a special immunity to undeath, and a reaction to undead exposure that's unique to them.
Minoaturs are clearly iconic, and there are a lot of similar beast + biped creatures in myth and fiction. Bovine skulls being used as masks and symbols is also extremely common, so I wanted to find a neat way to combine those into my minotaurs-with-extra-pointy-bits concept to make ghortal new and more interesting.
As for how I know when I have succeeded — it's always a matter of how other people take to the idea.
But it's sure a good sign when a professional cartoonist is so taken by the idea, they do art for it. Relatedly, here's art the amazing Stan! did after reading my ghortal post earlier today. 🙂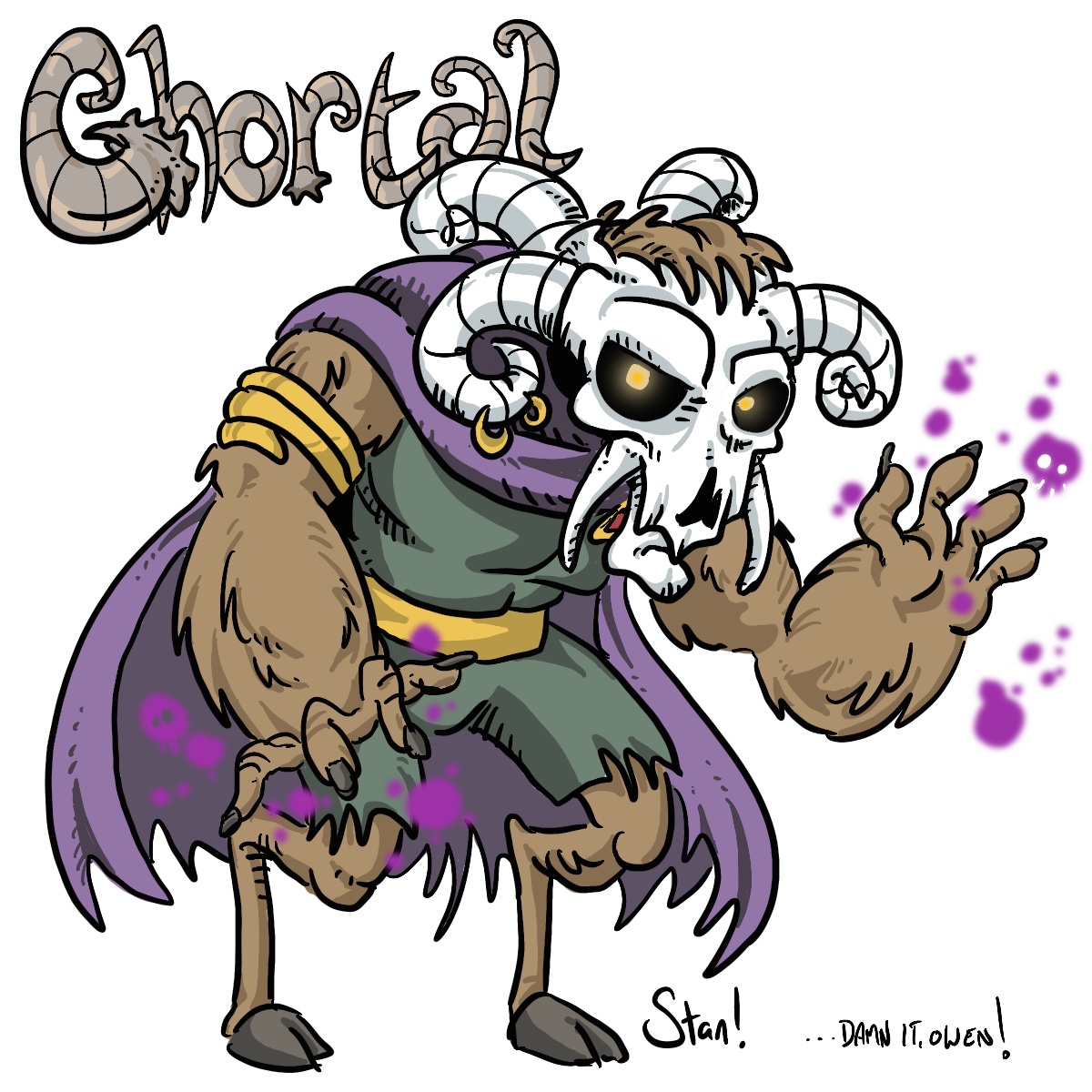 Support My Patreon
The more support I get, the more time I can spend on writing things like this.
If you enjoy any of my articles, please sign up, for as little as the cost of one cup of coffee a month!