Blog Archives
I love making new fantastic things. Not just "fantasy" things, but amazing and otherworldly things you could find in supers stories, or ancient mythology, or scifi, or weird west tall tales, or all of the above.
I especially love to make new things that feel like they have a long, established, iconic niche even if they are brand new. Obviously that's a great *goal*, but it's extremely difficult to do without making something that's just a pastiche. It's also extremely difficult to know when you have succeeded.
I do have some tricks I try to apply. Firstly, I often find if I can't explain a thing within the number of characters allowed by a Tweet, I don't have a firm enough grasp of what the core of that thing is. Second, I try to think about what the base of a thing is, and what the expansion is.
For example, today I had an idea leap into my head (likely due to insomnia-induced fatigue toxions) which I described thusly:
Ghortal are 7-8 foot tall unguligrade bipeds with roughly bull-like heads featuring tusks and 2-7 curling horns. Immune to undeath, if infected their faces take on skeletal features as their aging slows and they gain occult power.
They have a strong clan structure.
The base of ghortal is clearly that they are a kind of minotaur-kin, though with tusks and more horns. But then the idea is expanded to give them a special immunity to undeath, and a reaction to undead exposure that's unique to them.
Minoaturs are clearly iconic, and there are a lot of similar beast + biped creatures in myth and fiction. Bovine skulls being used as masks and symbols is also extremely common, so I wanted to find a neat way to combine those into my minotaurs-with-extra-pointy-bits concept to make ghortal new and more interesting.
As for how I know when I have succeeded — it's always a matter of how other people take to the idea.
But it's sure a good sign when a professional cartoonist is so taken by the idea, they do art for it. Relatedly, here's art the amazing Stan! did after reading my ghortal post earlier today. 🙂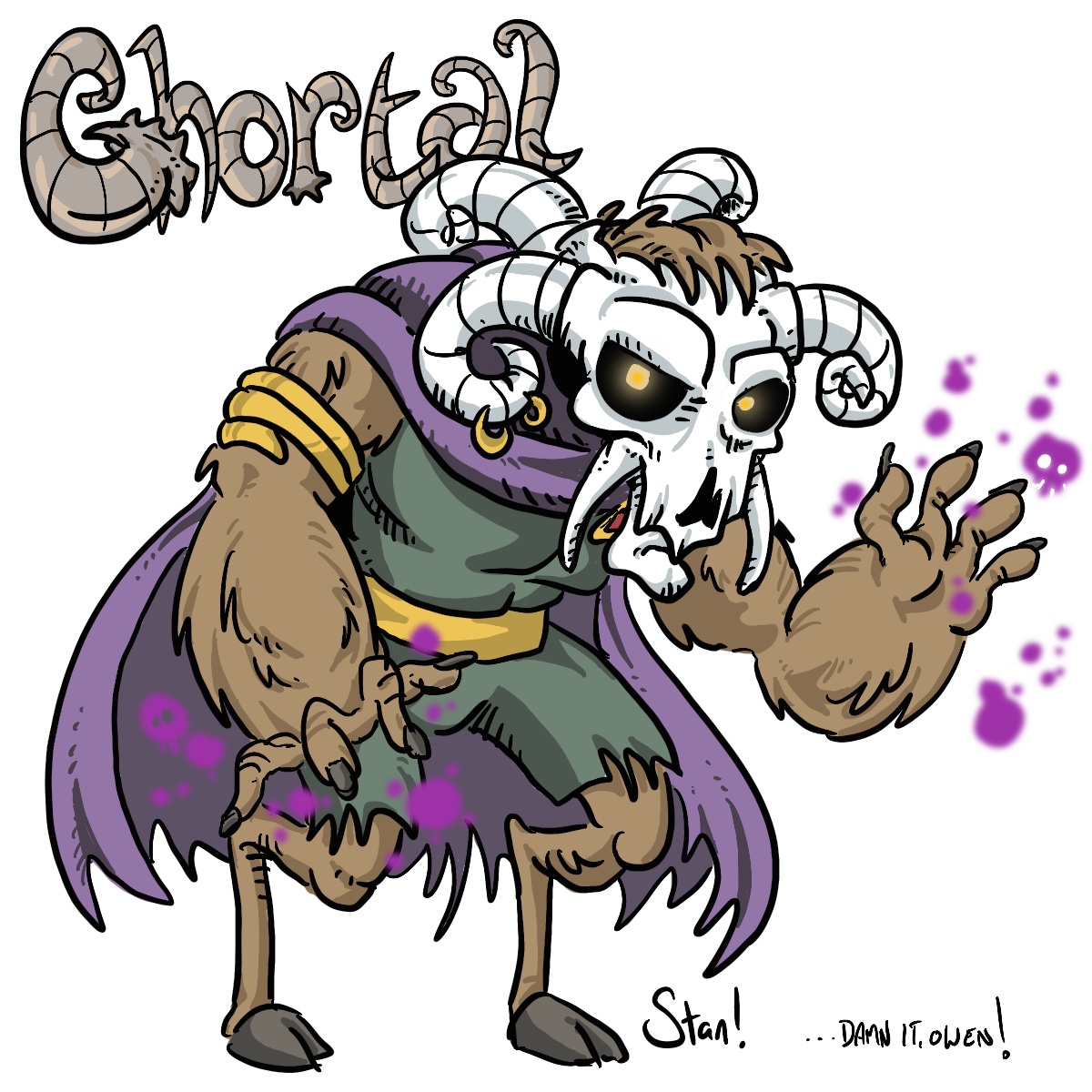 Support My Patreon
The more support I get, the more time I can spend on writing things like this.
If you enjoy any of my articles, please sign up, for as little as the cost of one cup of coffee a month!
Recently I have invited several colleagues to submit guest blogs for me to highlight. This one is by Gaming veteran and cartooning luminary Stan!
If you are involved, or getting involved, in tabletop games and are interested in having me feature a guest blog of yours, let me know! You can drop me a line at owen.stephens@gmail.com.
Heya, folks! I'm Stan! … yeah, one name with weird punctuation … yeah, there's a story behind that … but that's not why I'm here. I'm here because Owen said that he could use some pinch-hit blog posts and he figured I'd have something interesting to say. I guess we'll see about that.
Those whose gaming memories stretch back more than fifteen years might recall that I used to have my name on a bunch of products and had a bit of a reputation for work done on D20 Modern, Marvel Super Heroes Adventure Game, Dragonlance: Fifth Age, Legend of the Five Rings, and a bunch of other lines and titles. I did game design, wrote novels, and drew comics … heck, I even got nominated for awards in all three categories. But of my own volition I moved on to other types of work—a fair bit of it in the managerial side of gaming, but also doing the kind of writing work where my name doesn't go on the cover of the product.
Since 2005 I've been doing "English Adaptation" for various manga published by Viz Media. Basically, I take literal translations of the books and smooth the scripts out so that they're fun to read and fit in the pre-existing word balloons. By my count I've done adaptations for more than 200 volumes that include titles like Ultraman, Gundam, Legend of Zelda, Pokémon, Demon Slayer, Monster Hunter, and probably a dozen more. I've also been doing voice-over scripting for various computer games whenever the opportunity presents itself.
Suffice it to say, I've had a pretty good career so far doing a lot of really cool things. And yet … of all the cool things I've done professionally, there's one that gives me more satisfaction than the others and still calls out to me to spend all my time in that pursuit—cartooning. For whatever reason, that is my true passion. And as cool as it is to be able to make a living doing game design, or writing … and as much as I do love doing those things too … no matter what I'm doing, I'd rather be cartooning.
To be honest, I struggled with that for a while. I mean, how ungrateful was it to get a "dream career" and still find yourself wanting something more? After all, I was able to do cartooning AND get paid for it … sometimes. And gaming and writing were definitely passions of mine. How could I want more than that? And after pondering that in a self-flagellating kind of way, here's what I came up with:
No matter where you are in life, you're always going to dream about where you'd like to be next!
And as a corollary:
Once you know what your current dream is … it's never too late to chase it!
During the pandemic year I've spent as much time as possible doing cartooning of various sorts—single panel cartoons, illustrations, caricatures, and sequential art stories. And after much hemming and hawing I've finally pulled the trigger and launched a Patreon so I can create a community of folks who want to support my cartooning and encourage me to do even more of it.
Having a Patreon reminds me that if I want my dream to be real, I have to WORK at it … and it shows me that there are people out there who want me to succeed. I have to push myself to keep producing work at a regular pace and to hopefully keep honing and improving my skills. I have to be responsible to me AND my patrons to make sure that I'm not just fiddling around (though some amount of fiddling around is part of the package … as it is with any creative work). My Patreon is still in in its initial months, and already I'm feeling the difference it's making in my life. I only hope that continues.
If you want to join in, I've got a little reward for those who join in as founding members of my Patreon community—a group I'm calling the "Stan!dard Bearers." I'd love to have you join us. But more than that, I hope that what I'm doing can inspire you to take the time and effort to pursue your own dreams. No matter where you are in life … no matter what your dream may be … it's never too late to CHASE it down and make it real.
Because once you catch it … you may find there's an even BETTER dream calling out to you! And you can chase that, too!
Stan!
Patreons
You can support Stan!'s Patreon here!
And, as always, you can support Owen K.C. Stephens's Patreon here!
Heya folks! Gaming veteran and cartooning luminary Stan! wrote a response-with-counterproposals to my blog from last Friday, which I am delighted to present to you here as another Guest Blog!
If you are involved, or getting involved, in tabletop games and are interested in having me feature a guest blog of yours, let me know! You can drop me a line at owen.stephens@gmail.com.
On Friday, Owen wrote an interesting and provocative post suggesting that Fire Elementals Shouldn't Be Immune to Fire. As so often is the case, I was gobsmacked by the brilliance of this simple game design heresy. But the more I thought about it, the more I felt like the idea would be improved with a little tweak. When I brought it up to Owen he said, "Fine … write it up!"
Damn it, Owen!
Demons and Devils
Owen's first suggestion was that since demons and devils were placed in Hell as punishment for their evil natures, it makes sense for they themselves to share the eternal torment that the souls they tend suffer. His suggestion was that these creatures are merely immune from being DESTROYED by hellfire because they are immortal spirits. While that made some sense to me, it also made me wonder why in that case they wouldn't be eternally on the EDGE of death, burned to near cinders but unable to succumb.
My counterproposal: In addition to being unable to be killed by fire damage, demons, devils, and other similar creatures get a new trait so that at the start of their turn, they heal all fire damage they have suffered. That way they are fresh at the start of each turn, and then get burned all over again. And if you target them with spells or other sources of fire damage, they have to take that too … they just can't die from it, and they'll heal it all back when their turn comes along.
In Their Element
The second half of Owen's pitch was that Fire Elementals not be immune to fire in the same way that we creatures of flesh are not immune to fists, suggesting instead that they are adapted to their natural habitat and "see routes through the flames" so as to avoid taking damage. I suppose partly this comes down to how one envisions the Plane of Fire, but for me there are no routes "through the flames," they are omnipresent. And my interpretation of creatures native to that plane is that they are cozy and comfortable when in the presence of natural occurrences of their element (sitting in a campfire is like a soothing bath for a Fire Elemental, likewise a Water Elemental is total at home in any amount of water).
My counterproposal: While elementals are sanguine when faced with their natural substance, they are still vulnerable to magical, chemical, and alchemical variations of it. So a fire elemental could be fine fighting in the middle of a burning house, but it'd take damage just like anyone else might from a <ital>fire bolt, fireball,</ital> or burning oil. It would be impossible, of course, to set a fire elemental on fire for ongoing damage … but the initial blast or splash sure hurts.
Patreons!
You can support Stan!'s Patreon here!
And, as always, you can support Owen K.C. Stephens's Patreon here!